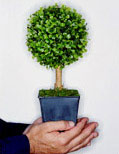 The company has paid out in fiscal 2015 two percent of the nominal capital in the form of a par value repayment to the shareholders and the participants. The distribution was made in the form of the delivery of participation certificates as of October 15th, 2015.
The company intends in the future to align constant dividends.
The statements above regarding future dividends are not binding and depend on the course of business in the respective fiscal year .